Sunshine Wood
View MissingKidsALERT profile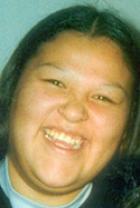 "When we think of Sunshine, we think of her beautiful smile and contagious laugh. On her birthdays, we think of her family who must spend the day, again, without her."
"Quand on pense à Sunshine, on pense à son beau sourire et à son rire contagieux. Les jours de son anniversaire, nous pensons à sa famille qui doit passer la journée sans elle." [traduction]
Date of birth:

April 6, 1987

Missing since:

Feb. 20, 2004

Missing from:

Winnipeg, Manitoba, Canada

Eyes:

Brown

Hair:

Dark brown

Height:

171 cm

Weight:

99.8 kg

Additional information:

Sunshine Wood has a tattoo of "SW" on her left hand, "Sunny" on her left forearm and "Destiny" on her right forearm; she also has numerous burn marks on her left forearm.